OUR PRODUCTS

XANTHAN GUM
Xanthan gum is also called Yellow adhesive xanthan gum, xanthomonas polysaccharide. It is a kind of monospore polysaccharide generated by fermentation of Pseudomonas flava. Since its special macromolecule construction and colloidal properties, it's with several functions. It can be used as emulsifier, stabilizer, gel thickener, impregnating compound, membrane shaping agent and others. It is widely applied in various fields of national economy. Xanthan gum is praised as "the monosodium glutamate of industry"; it is the microbial polysaccharide with largest production scale and extremely wide application.
Basic information
---
English name: Xanthan gum Other name: Yellow adhesive, xanthan gum, xanthomonas polysaccharide
Chemical formula: C35H49O29 CAS number: 11138-66-2 EINECS number: 234-394-2
Appearance: white or light yellow powder
Main purpose
---
In industry, it is applied as multiple purposes stabilizer, thickening agent, and processing assistant agent, including producing canning and bottled food, bakery food, dairy product, frozen food, salad seasoning, drink, brew product, candy, pastry decorating accessories and others. During food producing process, it is liable to flowing, pouring in and out, channelization and reducing energy consumption.
Our xanthan gum products
---
1. Industrial grade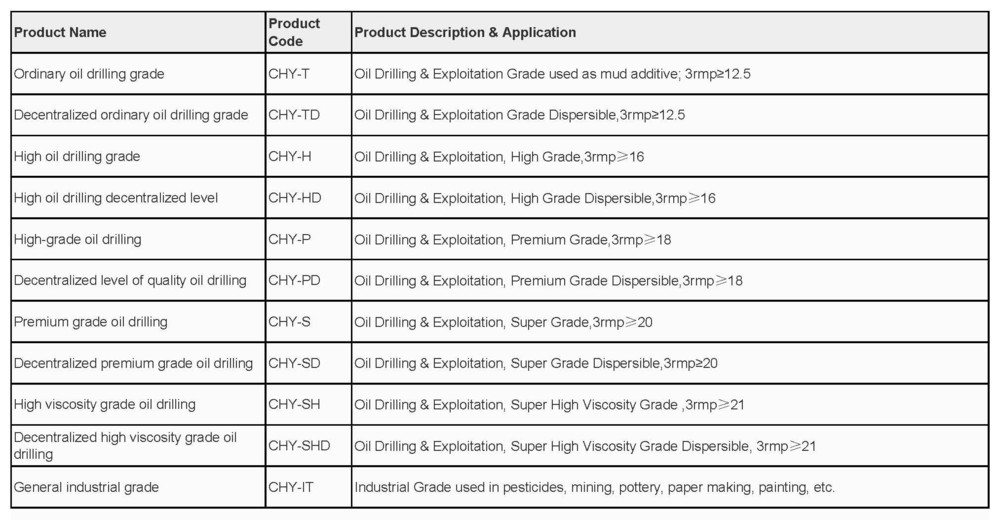 2. Food grade
1. Application of Xanthan Gum in Petroleum Industry
---
A huge market for xanthan gum is petroleum industry. In the performance of Viscosity, thickening, salt resistance and contamination resistance, xanthan gum is far better than other polymer; especially in the well drilling of sea, beach, high halide layer and permafrost layer, xanthan gum has remarkable effect in sludge treatment, completion fluid, and tertiary oil recovery, and has significant function for accelerating drilling speed, preventing the well collapse, protecting oil and gas fields, preventing the blowout, enhancing oil recovery rate substantially, etc. As a kind of ideal additive, this product has very favorable development prospect.
(1).Drilling Industry
Drilling fluid is the working fluid applied in drilling process. During the drilling process, drilling fluid acts important function. People usually refer it to as "blood of drilling". xanthan gum is one of its main components. Its functions are adding viscosity and shearing force, improving the suspending power of drilling fluid which is essential in using functions of the drilling fluid.
(2).Oil exploitation industry
Since the xanthan gum is with good viscosity, rheological property, water-solubility, and chemical stability and also with strong performance for mechanical degradation resistance, it can be used as displacing agent of oilfield exploitation. Many kinds of polymer can be used as mobility control agent in oil exploitation. Among these kinds of agent, xanthan gum is identified as the agent with most utilization potentiality. Xanthan gum contains many essential conditions required for improving oil recovery rate.
2. Xanthan gum application in food.
---
As a food additive, Xanthan gum has been accepted by many countries. This kind of polysaccharide remarkably improves the texture, taste, appearance through controlling the rheology action of the product, improve its commercial value; in beverage, cake and pastry, jelly, canned food, sea food, meat product processing and other industries, it has become important stabilizer, suspending agent, emulsifier, thickening agent, adhesion agent and processing material with high added-value and quality. It can be concretely summarized into following aspects.
(1).Acid-resisting salt-tolerant thickening stabilizer
Be applicable to various kinds of juice beverage, fruit juice concentrate, food with seasoning (such as soybean sauce, oyster sauce, salad sauce). The stabilization effect of Xanthan gum is obviously batter than other gum. It is with extremely strong heat stability so that ordinary high temperature sterilization has no effect to it.
(2).Emulsifier
As an emulsifier, it is applied in various kinds of protein drink, milk beverage, etc to prevent oil-water stratification and improve protein stability, prevent protein sediment. It is also used as foaming agent and foam stabilizer based on its emulsifying capacity.
(3).Filling agent
As stable high viscosity filler, it can be applied in processing of various kinds of dessert, bread, biscuit, candy, etc. Under the condition that the traditional flavor of the food is not changed, it can make the food with more preferable shape preserving property, longer expiration period and batter taste. It is beneficial to the food diversification and industrialization scale production. In the production process of various kinds of frozen foods, xanthan gum it is with function for preventing water loss, delaying aging and prolonging quality guarantee period.
(4).Emulsion stabilizer
As an emulsion stabilizer, it is applied in frozen foods. In ice cream, sorbet, xanthan gum can adjust the viscosity of mixture and make its composition uniform and stable and its tissue soft and smooth. Since the relation between the viscosity of xanthan gum and temperature has plasticity and shearing property, during the processing, its viscosity is reduced and the resistance is decreased, so that it is in favor of processing; however, during the aging stage, viscosity is recovered so that it is beneficial to improving expansion rate, preventing the generation of large ice particles in ice cream tissue and making the taste of ice cream more fine and smooth. Meanwhile, it also improves the freeze-thaw stabilization of the product.
(5).Application in flour product
In flour product, xanthan gum is a kind of additive worth being promoted. In the producing process of fine dried noodles, noodles and instant noodles, the added xanthan gum can improve gluten power of dough; the dough sheet extruded is with toughness and is reduced broken rate after drying, meanwhile it also improve taste and make it chewy, fresh and smooth; for frying cooking, it also can save oil and reduce cooking cost.
(6).Other application
Except for the applications above, xanthan gum is also widely used in processing of meat food, fruit and vegetable fresh-keeping cans and other foods.
Matters needing attention
---
It should be stored under environment temperature, airtight, dry conditions.